Home Type: 3-bedroom condominium unit
---
Text Janice Seow
Photography Wong Weiliang
When Jason and Annie met interior designer Lawrence Puah of Akihaus five years ago, they loved his ideas, but did not end up engaging him to design their first home. So when they bought their second place recently– an old resale apartment in the East Coast – they decided it was now or never.
They were not disappointed. "Knowing that we had a 4-metre-high ceiling, Lawrence immediately began sketching out a pitched 'roof', and for us there was really no turning back from there," Jason shares.
For Lawrence, the feeling one gets in a space is very important. "Circulation, movement, how you use the space – it all has to flow," he says. "High ceilings can be too impersonal, but with a pitched ceiling, it is possible to create a cosy setting while having a high-ceilinged effect at the same time."
This design also creates an illusion of a house. "Most Singaporeans don't have the opportunity to live in a landed property, and this design gives this home that feel," says Lawrence.
Jason wanted the living room to serve as his man cave. To create a sense of intimacy in this space, and with consideration for storage needs, Lawrence built a moveable cabinet for shoes and personal items that also functions as a room divider between the living and dining area.
Generous storage solutions have also been built into other areas of the home, including the full stretch of 'concealed' cabinetry in the living and dining area, and a custom designed dining bench that doubles as a hidden place for footwear.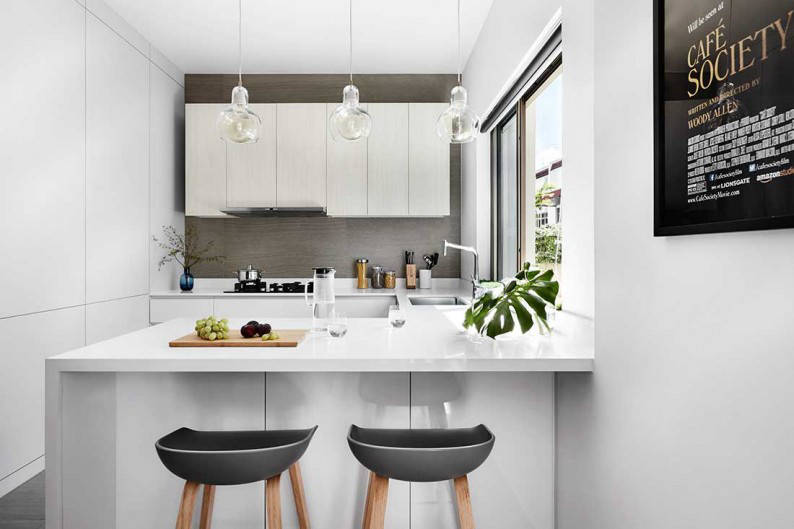 Given the family's love for entertaining, Lawrence has created a spacious and light-filled kitchen where family and friends can gather around. He has achieved this by extending the kitchen partway into the original WC area, which creates enough room for a kitchen island. Light enters not only via the kitchen window, but also from the widened kitchen entryway, which now sports a frameless glass door.
By combining one common bedroom with the master, Lawrence has given the owners a bigger and more luxurious sleeping quarters complete with a generous walk-in wardrobe.
A blown-up wedding photomural of the couple emphasises the sense of scale in the high-ceilinged master bedroom. Both the master and common bathrooms have been enlarged. The latter is now connected to the daughter's room for convenience, while the former has more space for a generous vanity counter
This home appears in our latest issue of Lookbox Living #53. Grab a copy at your favourite newsstand!
---
---