Home Type: 4-room HDB flat
---
Text by Janice Seow
The design of this four-room HDB flat draws significantly from the homeowners' Middle Eastern and Malaysian roots, as well as their Mediterranean-influenced lifestyle, which they had experienced while studying and working abroad.
"The client wanted a modern and soothing home, yet one that was eclectic with layers of colours, textures and art," says interior designer Ebenezer Yoon from MYNMYN.
With a modest renovation budget of $45,000 to work with, the clients wanted to achieve this without any layout restructuring, and asked to retain the existing kitchen cabinets, which were fairly new. There were also existing artworks that they wanted to display, and a room they desired to convert into a gym and workspace.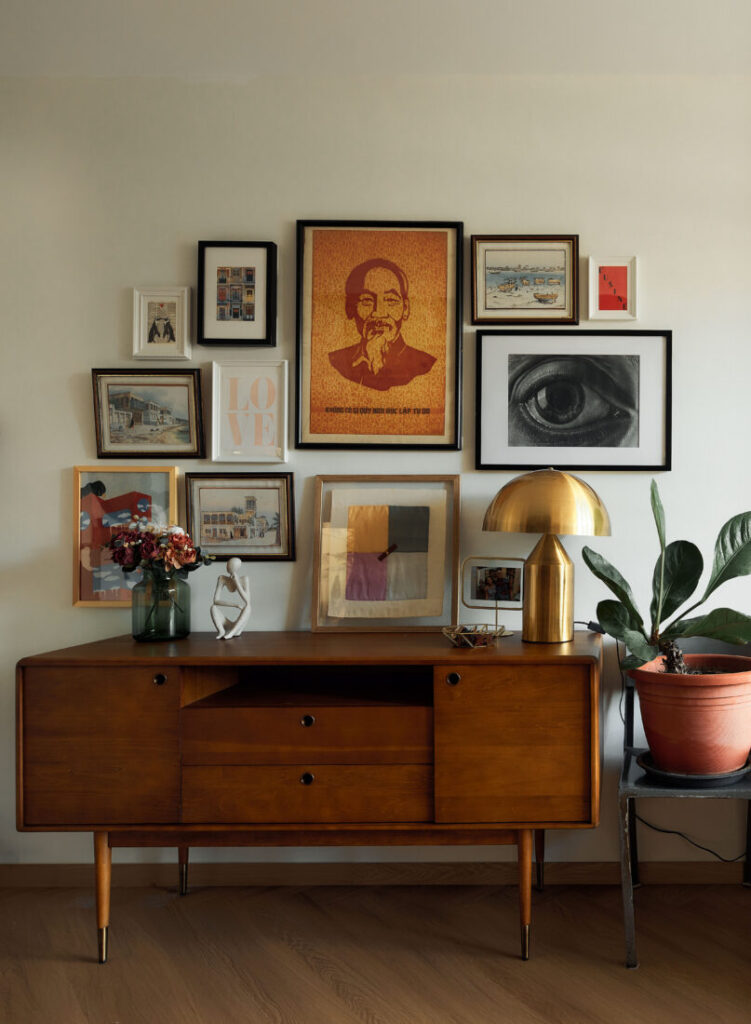 Since the home's layout had to be kept intact, the designer turned to colours, material selection and styling pieces as the key tools to transform the space. "We went around to a few tile shops as we wanted to find the right pops of colours," Ebenezer shares.
The flooring in the living area was overlaid with warm wood-inspired vinyl, the kitchen backsplash was tiled a warm and vibrant red, and the existing kitchen cabinets refreshed with durable 3M Di-Noc surface. In the bathrooms, the floor tiles were kept, but the walls were overlaid in cheery patterned tiles.
Touches of green are repeated throughout the home. In the dining area, the wall-to-ceiling painted wall helps to zone the space. In the gym, it's a grass carpet for an element of fun and touch of nature. In the master bedroom, dark green curtains heighten the cosy and relaxed atmosphere while complementing the soothing colour scheme.
According to Ebenezer, the client's existing art pieces and furnishings were factored in from the start, during the design phase. "We wanted to ensure that the elements we built as well as selected would blend well with what they had," says the designer, who also helped his clients pick out additional furnishings that would complement the space.
This home is defined by its harmonious medley of vibrant colours, textured materials and earthy hues, and Ebenezer's concept of 'uncluttered eclecticism' is certainly a perfect description of the space.
MYNMYN
www.mynmyn.com
www.facebook.com/mynmyn.studio
www.instagram.com/mynmyn.studio
Photography by Yong YI
Shop the Look
Living room, herringbone vinyl flooring from Arc Floor
Dining room, furnishings from Mountain Living and Second Charm
Kitchen tiles from Hafary
Kitchen cabinets overlaid with 3M Di-Noc
Master bedroom, green curtains from MC2
Master bathroom, terrazzo-patterned wall tiles from Hup Kiong
Master bathroom, sanitaryware and sink cabinet from SaniQUO
We think you may also like Inside the home of two art collectors
---
---