Home Type: 3-bedroom condominium unit
---
Text by Joseph Lim
Storage was a concern for the homeowners. The Archive Design team responded with a clever, space-enhancing solution. The designers custom-built a row of cabinetry that spans the entire length of the home. It starts from the foyer, continues past the dining room and ends in the living room. This multi-purpose piece of carpentry integrates the television console, display shelves, shoe cabinets and more.
A dining room need not be big or bulky. Here, the design team transformed a cosy corner into a petite dining space, complete with an L-shaped banquet seating. The built-in table and seat are customised to fit perfectly into the space, ensuring that every inch is fully utilised. An additional bench and a dining chair – both upholstered in cheery yellow – provide extra seats for guests. To complete the look, the designers installed pendant lamps that attract the eyes and emphasise the verticality of the space.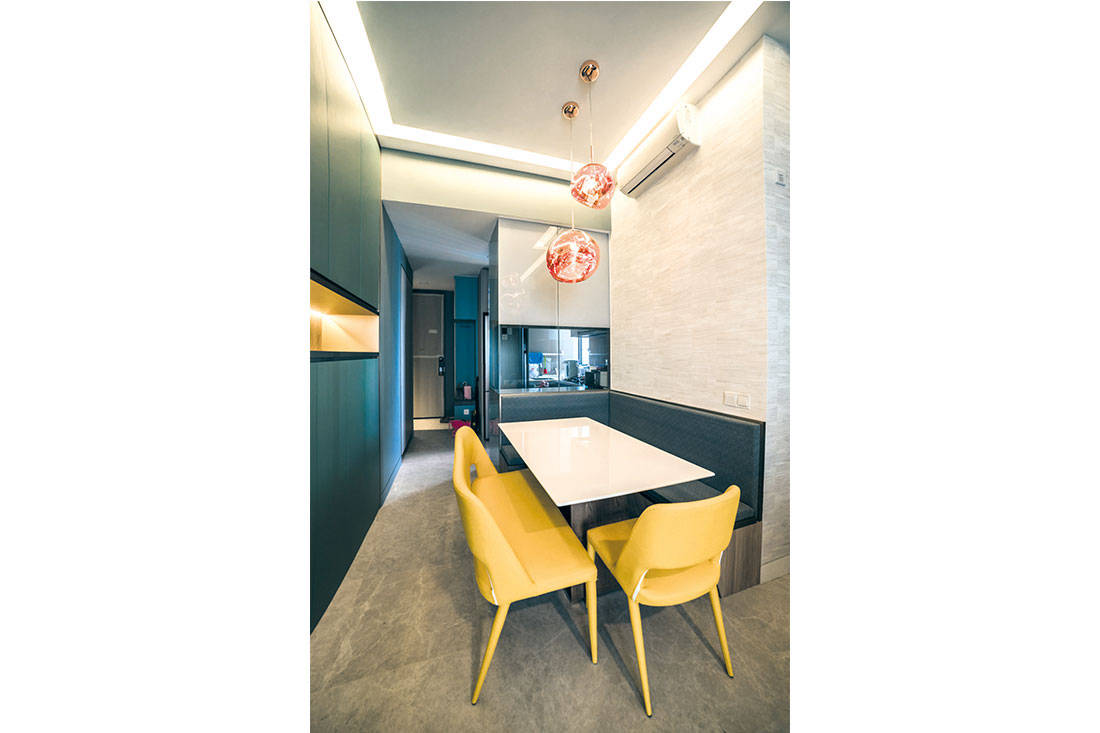 It's all in the details when it comes to such an intricate construction. Here, the designers paired walnut woodgrains with pastel blue, resulting in a striking yet pleasing palette. Strips of LED lights are hidden within the carpentry, illuminating each open shelf. For even more visual texture, the back panels sport diagonal inlays that form a simple yet effective graphic.
This all-in-one design contains a shoe cabinet, complete with a bench for the owners to sit on. To maximise space, an open alcove on the bottom rung of the shelf provides easy access to footwear. There's even a built-in power outlet for the owners to charge any device when needed.
The design team's dedication to providing storage continues into the bedroom. Despite its small footprint, the room is served by a large desk and storage cupboards mounted against the wall. Smooth matt textures and pronounced woodgrains are paired together to great effect.
This bedroom is a prime example of how Archive Design maximised a small footprint. Cupboards reach up to the ceiling, a cantilevered desk is built into the bay window and there are more storage options beneath the elevated platform floor. There's even a hidden pull-down bed that disguises as wardrobe doors when not in use, ultimately saving precious floor area here.
Archive Design
www.archiveindesign.com
We think you may also like 4 carpentry components you should know
---
---