Home Type: 3-bedroom walk-up apartment
---
Text by Stephanie Peh
The design team from three-d conceptwerke has disregarded standard housing typology and tailored this walk-up apartment to fit the needs of a young couple. Without being kitsch, unconventional housing materials such as concrete ventilation bricks, semi-translucent glass blocks and neon signage pay tribute to the charming and hip Tiong Bahru neighbourhood.
Concrete ventilation blocks, red brick walls of varied tones and curved corridors inject soul – an element three-d conceptwerke believes to be essential in imparting meaning to any living space. A dream corner for the homeowners who regularly entertain, the open-concept kitchen-cum-bar is elevated with a curved platform that hides unsightly wiring and pipes.
In place of a conventional living hall is an entertainment room for chilling and hanging out with guests. An Instagram-friendly pink neon signage oozes positivity and overlooks the room with a vintage dental chair and rustic lighting units that adhere to the 'modern industrial and steampunk man cave' aesthetics requested by the homeowners, imbuing the apartment with a one-of-a-kind character.
Enhancing fluid movements, the spacious dining area comprising a long wooden table and matching chairs is conveniently laid out in front of the entertainment room, where guests proceed to hang out after meals. Through black-framed doors, the neon artwork is visible, evoking a cafe-like atmosphere. "It serves as a feature background and makes the space feel less confined," say the design team.
Complementing the shape of the walk-up, curves were skilfully implemented throughout the space. This includes the bathroom where a curved glass block acts as a semi-translucent divider while enabling light to pass through. three-d conceptwerke's knack for harmonising diverse materials in a single space is seen through the marriage of glass blocks, emerald green tiles and industrial pipes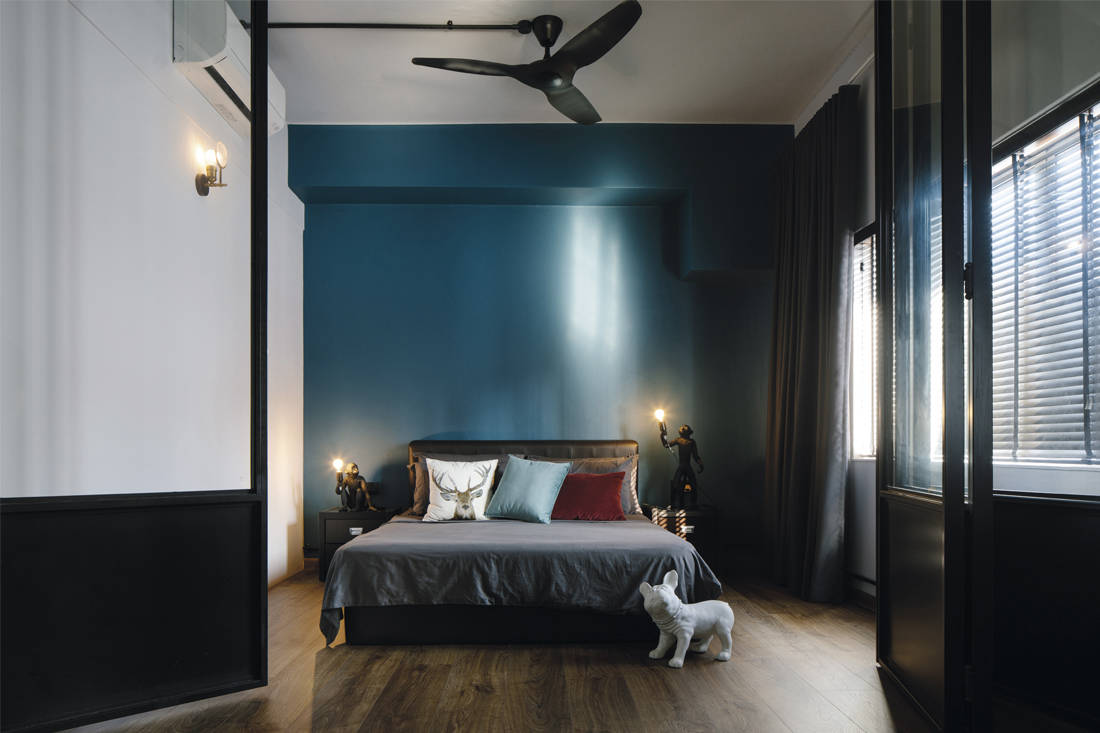 The comfort of space is enhanced in the lofty bedroom with minimal furniture and folding see-through metal frame doors. three-d conceptwerke's signature quirky yet timeless style is evident through the simple pairing of a teal wall, parquet flooring and dim lighting. Figurines are dotted throughout the bedroom as decorative and lighting pieces.
three-d conceptwerke
www.three-d-conceptwerke.com
We think you may also like An artist turns her living room into an art studio
---
---