Text by Mandi Keighran
There was plenty of cause for celebration at this year's London Design Festival. Not only did the 2022 edition mark the first full return of the fair in three years, but it was also the event's 20th anniversary. Set against a backdrop of Brexit, the cost of living crisis, and the impact of the pandemic, it also felt more important than ever to recognise and support the city's creative industries.
From the 17th to 25th September, design was found in almost every corner of the city, with the Festival Hub at the V&A; 12 Design Districts showcasing new work and open showrooms; fairs, such as the inaugural Material Matters and Design London; and the Global Design Forum with a thought-provoking programme of discussions from thought leaders in the design world.
"The design and creative sector in London and the UK has enjoyed a golden period this century. An extraordinary rush of ideas fed by a steady migration of world-class talent made London the global capital it now is," says Ben Evans, London Design Festival Director.
"On our 20th anniversary, we want to take stock and move forward to ensure the Festival continues to support the design community, commissions and showcases new ideas, and reflects on the key issues from technology to sustainability to well-being so that the next 20 years are as fruitful as the past 20."
Here, Mandi Keighran picks out the top 10 highlights from this year's London Design Festival.
#1 Into Sight by Sony Design
The London Design Festival Landmark Projects are almost always impressive – and this year everyone was talking about Into Sight by Sony Design. The installation transformed Pavilion Gallery at Cromwell Place into an immersive world of sound, colour, and light. Visitors entered a tunnel-like space featuring a 220-inch Sony Crystal LED screen – which is rapidly replacing green screen technology – showing everchanging abstract landscapes, see-through glass walls, and mirrors on the floor and ceiling. The experience was akin to stepping inside a kaleidoscope, and accompanied by a generative soundtrack can only be described as otherworldly.
#2 Swivel by Sabine Marcelis x SolidNature
Another LDF Landmark Project saw Dutch designer Sabine Marcelis partner with natural stone brand SolidNature and property developer Almacantar to create an installation of playful public seating in St. Giles Square. The chairs are crafted from enormous blocks of granite, quartzite, marble, and travertine, with a swivelling seat atop a fixed base in a contrasting stone; and the bright colour and texture of the stone contrasts with the surrounding cityscape. Challenging the often highly temporary nature of exhibition installations, Swivel will remain in situ until November.
#3 Material Matters 2022
Materiality is a major part of the design world – and one that is perhaps overlooked at design fairs. Based on the award-winning Material Matters podcast by design writer Grant Gibson, the inaugural Material Matters 2022 fair shines a spotlight on makers who are redefining our understanding of materiality. Held at the Bargehouse, OXO Tower Wharf, the exhibition featured the likes of Alkesh Parmar, who develops materials from waste materials such as orange peel; inflatable aluminium furniture by Hydro; Nature Squared's deliciously tactile tiles crafted from eggshell, seeds, bark and feathers; and Zena Holloway's sculptures grown from literal grassroots.
#4 Monograph by LAYER
Also at Material Matters 2022 was British designer Benjamin Hubert, founder of LAYER, who was celebrating the launch of a new book published by Phaidon and written by design curator Max Fraser with the Monograph exhibition. Taking over two rooms of the Bargehouse, the exhibition comprised more than 30 projects showcasing the diversity of LAYER's output over the past decade – from furniture and homewares, to consumer technology – alongside the studio's signature watercolour sketches and a film showing digital work and immersive installations. Monograph also marked the UK launch of the O6 task chair for Allsteel, the Calma chair for Andreu World, and the Sabot and Rostrum modular sofa systems for Prostoria.
#5 Ukraine: Design for Real Time by NOOM
It's the responsibility of designers to respond to the world around us – and young Ukrainian design studio NOOM staged an installation that draws attention to the ongoing war in Ukraine. Located at 4 Cromwell Place in the Brompton Design District, it explored Ukrainian design before and after 24 February.
The studio's Gropius Low Chair, which was designed during peacetime, has been reupholstered using camouflage netting to give the chair new meaning. The netting was crafted using more than 4,000 knots in Vinnytsia at one of many centres in Ukraine where civilian volunteers are knotting camouflage nets for military use.
#6 One Tree at SCP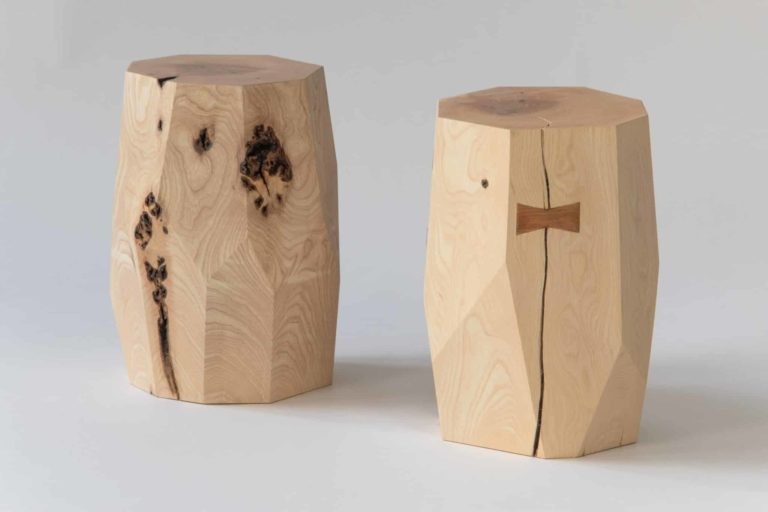 Sustainable reuse was another pressing issue addressed by many exhibitors at this year's LDF – and one of the most poetic takes came from the One Tree project by furniture retailer SCP in the Shoreditch Design Triangle. When SCP founder Sheridan Coakley discovered that one of the ash trees in his garden needed to be felled due to disease, he invited a group of designers, including Faye Toogood, Sebastian Cox, Matthew Hilton, and Peter Marigold, to repurpose the timber into a series of one-off objects – from benches and seating to finely crafted timber bowls, and a series of glass sculptures formed in the voids of the trunk.
#7 Material Experiments by Omer Arbel Office
The Victoria & Albert Museum returned as the Festival Hub for the 13th year running. While there was plenty to see throughout the museum, a highlight was Material Experiments by Omer Arbel Office. The John Madejski Garden was transformed into an immersive, nine-day glass-blowing performance showcasing the creation of Arbel's sculpture series 113. During the performance, copper and glass antiquities sourced from flea markets were returned to their raw form and repurposed as a series of new artefacts using an experimental process developed by Arbel.
Another highlight at the V&A this year was the R for Repair exhibition, which showcased sentimental objects with thoughtful repairs – from a broken ceramic plate held together with staples, to a new woven rattan wing for a toy puffin.
#8 Inky Dhow Universe by Bethan Gray at Sketch
Like the V&A, Mayfair's Sketch restaurant and bar has long been a fixture during LDF. This year, Bethan Gray, Moritz Waldemeyer, and Tannaz Oroumchi were each commissioned to create a site-specific installation. The entrance was reimagined by Bethan Gray as the "Inky Dhow Universe", with the London-based designer's signature stripes flowing across the walls, floors, and furnishings.
This set the scene for the launch of Gray's new armchair and sofas from her Ripple collection, a console-style desk finished with intricate marquetry and a range of handblown glass lamps made in partnership with Murano lighting atelier Baroncelli.
#9 Huguet x Pentagram
4 Cromwell Place was transformed into Huguet x Pentagram, a colourful wonderland of tiles and objects celebrating the traditional production methods of encaustic cement and terrazzo tiles manufacturer Huguet. Seven creatives from leading design studio Pentagram were invited to take part in collaboration with graphic designer Astrid Stavro – and the results varied from playful 3D 'totems' to graphic typographical tiles, and a coffee table with a cast cement tile top that can be rearranged.
#10 Vitra Showroom
There's been talk of a new Vitra space in London for some time now, so it was exciting to finally get a glimpse inside the iconic brand's new flagship UK showroom in the Tramshed building in Shoreditch. Originally a power station for the East London Tramway, the building has been carefully preserved and restored by Vitra's creative director of scenography, Till Weber, to create a striking contrast between the characterful historic details and the brand's modern furniture.
The 920-square-metre space was unveiled during LDF with an exhibition showcasing the work of French designer Jean Prouvé, including a new limited edition of the Fauteuil Kangourou, designed in 1948.
We think you may also like 11 standout exhibitions at Milan Design Week: Cera Stribley reports
---
---