The anticipation surrounding Milan Design Week 2022 was palpable in the months leading up to the June festivities – and the Italian design capital did not disappoint. Salone del Mobile may have been the 'main event', but it was the fringe events of Fuorisalone 2022 that really offered something to write home about.
Manifesting in a plethora of showroom exhibits, pop-up galleries, and design installations scattered throughout the independent design districts of Milan, Fuorisalone 2022 proved to be a compelling showcase of genuine and trend-setting design innovation. This year's pronounced decentralisation of Salone made for an altogether riveting experience, underscored by a sense of exploration and discovery, with the whole city riding on a week-long, design-led high.
Sensory design, sustainability, and material innovation were the three prevailing themes throughout the week, with the most gripping design showcases always coming back to one or more of these recurrent trends. Set against the backdrop of the ancient city, notions of adaptive reuse, urban infill and sustainable urban design were also on display, with a breathtaking juxtaposition of classic and contemporary design permeating the city overall.
Here are 11 standout exhibits that epitomise the essence of Milan Design Week 2022.
#1 H+O Apartment Gallery
An interior design trend that will soon be on everyone's radar, sensory design transcends the quintessential design elements of form and function, to create qualitative spaces that ignite the senses, exude emotion and contribute positively to wellbeing.
Located in an entirely charming, circa 1700s Milanese apartment, the Inside Looking Out pop-up space and gallery was a collaboration between Elisa Ossino and Josephine Akvama Hoffmeyer, founders and curators of DUX and H+O.
The curators selected arts and crafts, together with contemporary objects and iconic furniture to transform the 18th-century apartment gallery into a work of art. In the kitchen, modern technology met with traditional knowledge, with a team of professional chefs from V-ZUG's Gourmet Academy serving up a truly sensorial experience through seasonal hors-d'oeuvre. Explore Apartment Gallery by H+O.
#2 SolidNature x Sabine Marcelis at Alcova
Since 2018, Alcova has earned a reputation for transforming a dilapidated, once-palatial estate in the heart of Milan into the pinnacle of Fuorisalone and this year was no exception. Returning once again in its stunning abandoned Inganni district urban park, Alcova was decidedly a highlight of the week – with the 'Monumental Wonders' exhibition by SolidNature stealing the show.
Marking SolidNature's debut at Milan Design Week, the Monumental Wonders exhibit was born of collaboration between international architecture practice OMA and featured bespoke commissioned pieces by OMA and esteemed Dutch designer Sabine Marcelis.
At once, visitors to Alcova are greeted by a monolithic, state of the art free-standing bathroom, designed by Marcelis and sculpted from Pink Pale Hue Onyx. Seeming to glow from within, each element of the playful installation has been meticulously taken into account by Marcelis, culminating in a piece in which form and function organically coexist. Explore SolidNature.
#3 Transparency Matters by Draga and Aurel at Rossana Orlandi Gallery
On display at the iconic Rossana Orlandi Gallery as part of the RoCOLLECTIBLES 2022 exhibit for Fuorisalone was an exuberant capsule collection of furniture, objects, art and lighting by Draga and Aurel. Titled Transparency Matters the collection could not be more relevant to the sentiment of contemporary times, while aesthetically the designs pay homage to the artistic and cultural buzz that is so synonymous with the 1970s. Explore Transparency Matters by Draga and Aurel at Rossana Orlandi Gallery.
#4 Villa Necchi Campiglio
An oasis within the industrious city, Villa Necchi Campiglio hosted the great and the good of Milanese society in its heyday. An Art Deco showcase completed by acclaimed architect Piero Portaluppi in 1935, the Villa has been given additional, ornate, classical internal touches over the years. Left to the Fondo Ambiente Italiano (FAI) by the original owners it is the epitome of avant-garde and traditional. Explore Villa Necchi Campiglio.
#5 Gaggenau – A Statement of Form
In 2022, renowned kitchen equipment brand Gaggenau stepped out of the Milan fairgrounds and into its own space at Fuorisalone. Hosted within the grounds of Villa Necchi Campiglio, Gaggenau's installation A Statement of Form was an intriguing, sensory and communal place for architects and designers to connect from all over the world. Explore Gaggenau.
Related: The latest in kitchens and bathrooms – straight from Milan
#6 Dimoregallery
Founded by Emiliano Salci and Britt Moran, the duo better known as Dimorestudio, Dimoregallery was born in 2014 on the second floor of a nineteenth-century Milanese palazzo. Originally conceived as the private apartment of the two founders, it has since been transformed into a gallery made of six rooms, where mid-century pieces, both Italian and foreign, coexist with contemporary objects from the international design scene, as well as with their own productions gathering under the brand Dimoremilano.
The historical pieces are selected for the role they held in the history of design, and for their capacity of combining concept and craftsmanship, shape and function, tradition and innovation. A cohesiveness to Dimoregallery's aesthetic and identity, as well as an attention to details, are the values around which the collaboration between the gallery and the contemporary designers has developed.
The gallery offers its guests a unique experience, regularly changing its set up every two to three months: the collections of the great masters of the 20th century and contemporary designers create evocative settings with timeless and tasteful elegance. Explore Dimoregallery.
#7 TWENTY by Tom Dixon
The eponymous furniture design studio of renowned UK-based designer, Tom Dixon, celebrated its twentieth birthday during Milan Design Week 2022, with an exhibition aptly named TWENTY.
Set against the neoclassical backdrop of Palazzo Serbelloni – home of Sotheby's showroom in the heart of Milan – TWENTY highlighted the debut of the latest extraordinary creations to come out of Tom Dixon's Design Research Studio, focusing on innovation and materiality. Altogether, the exhibition was suitably eccentric, true to the character of the collection's pre-eminent designer. Stand-out pieces included the aluminium 'Press' lighting range, the 'Etch' tower, and the Japanese-inspired 'Paper' lanterns. Explore TWENTY by Tom Dixon.
#8 Superbloom
Continuing on the trend of sensory design, Los Angeles-based multidisciplinary design collective, RIOS, curated Superbloom – a joyfully immersive exhibition inspired by the flora and fauna of Southern California.
"The inspiration of our exhibition is to connect people and unite the audience of Milan Design Week in a shared experience in recognition that moments of gathering, like those of a Superbloom, no matter how fleeting, can be powerful for making community," says Sebastian Salvadó, creative director and partner at RIOS. Expore RIOS.
#9 Forite tile collection by Snøhetta, Studio Plastique and Fornace Brioni
In addition to the theme of sensory design that permeated Milan Design Week 2022, material innovation and sustainability also proved to be high on the agenda. One of the standout showcases of this was the launch of the Forite tile collection, born out of a collaboration between Snøhetta, Studio Plastique and Fornace Brioni.
Made from recycled glass from microwave ovens, the tiles have been developed in two different sizes. The tiles are both opaque and transparent, each with a unique pattern and expression. With a deeply complex, terrazzo-like material quality, they are suitable for a wide range of architectural applications, including both surface coverage and as semi-transparent partition elements. Explore Forite by Snøhetta, Studio Plastique, Fornace Brioni.
#10 Feeling The Energy
Elaborating further on the notion of sustainability, international design and innovation studio Carlo Ratti Associati collaborated with architect and urban planner Italo Rota, to turn Milan's botanical garden into a farm of renewable energy. Aptly titled Feeling The Energy this incredible installation project employed over 500 metres of digitally bent copper piping with antimicrobial properties.
The installation invited people to wander through Milan's historical Botanical Garden, in a sequence of six main stages: Energy Carousel, Garden Orchestra, The Leading Logo, Powering Vibrations, Blinds in the Sun, and Solar Garden. Each of the six stages was dedicated to exemplifying how energy can be produced from the sun, wind, and people's movements. The installation harvests and stores energy during the day, using it to illuminate the Botanical Garden in the evening. It also powers water vaporisers that will cool the garden pathways while at the same time nourishing the vegetation. Explore Carlo Ratti Associati.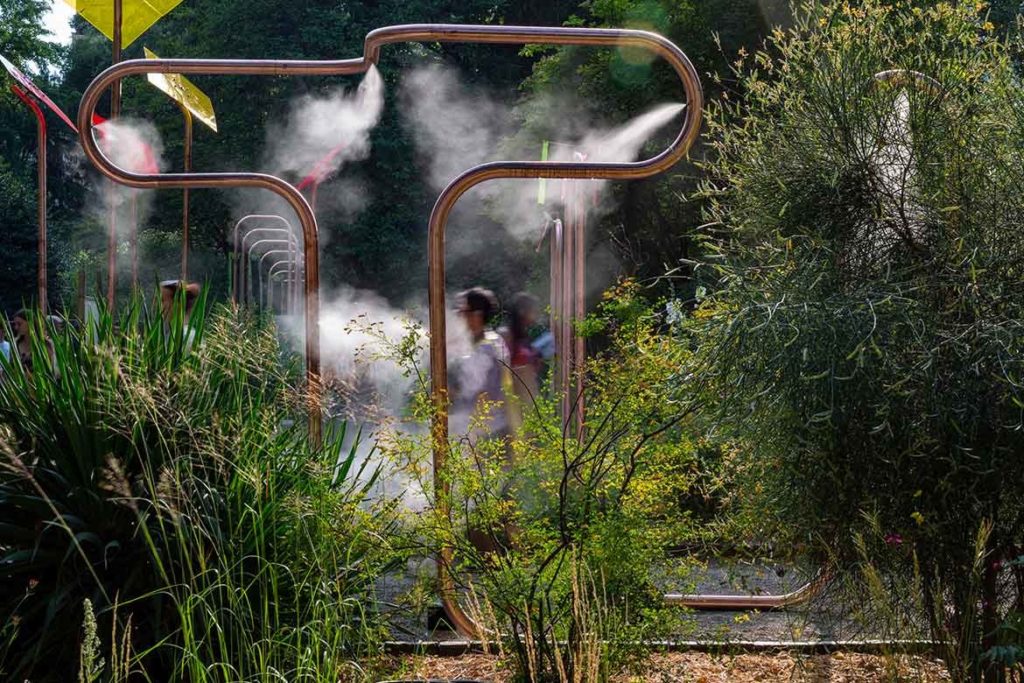 #11 RoGUILTLESSPLASTIC 2022
A recurring feature of Milan Design Week, now in its fourth iteration, the 2022 edition of Rossana Orlandi's RoGUILTLESSPLASTIC exhibition was centred around the concept of reciprocity. Inviting designers emerging and eminent from all over the world to design and exhibit products that catapult the movement of the ethical circular economy to new heights, the RoGUILTLESSPLASTIC 2022 exhibition at Rossana Orlandi Gallery was the epitome of sustainability meets innovation. Explore Guiltless Plastic.
Jessica Coulter is an associate with Cera Stribley.
Cera Stribley
cs-a.com.au
We think you might like this article about St Hubert's Winery by Cera Stribley.
Catch all the latest Salone del Mobile 2022 stories here

---
---