With 10 leading design brands and 18 fantastic prizes , the $30,000 Design Package is a definite must-have! Here's a closer look at all the goodies that could be yours!
Pomme three-seater fabric sofa, $2,678, from OM
This roomy three-seater is a stunner! We're confident it'll look good in any home, no matter what your interior design! Check out the tapered legs, definitely on trend right now.
Triangle coffee table, $1,281.90, from OM
The perfect complement to the fabric sofa is the Triangle coffee table. It's designed by Mario Mazzer for Entune Living, and features beautifully curved edges (they're kid-friendly!) and a beautiful contrast of colours.
Arc leisure chair, $1,067.90, from OM
We're pretty sure the Arc chair will become your go-to seat when you just want to plonk yourself and have a rest. Its wide seat and subtly curved back provide surprising comfort in and room of your home.
Fab28 (yellow) fridge, $2,588, from SMEG
There's a reason why the SMEG fridge is so popular around the world: it has an irresistible retro design, eye-catching colours and amazing good looks that you'll want to proudly display.
Omnia Series washer & dryer, $2,588 and $4,198, from Whirlpool
This washer and dryer pair meets every single laundry need you might have at home. Finally, no more reason to hang your laundry out during Singapore's wet or hazy weather conditions.
UniCased Posturepedic Bishop king-sized mattress, $6,999, from Sealy
Measuring at 183cm by 190cm, this king-sized mattress features refined spring technology and an innovative edge support system, promising maximum comfort each and every night.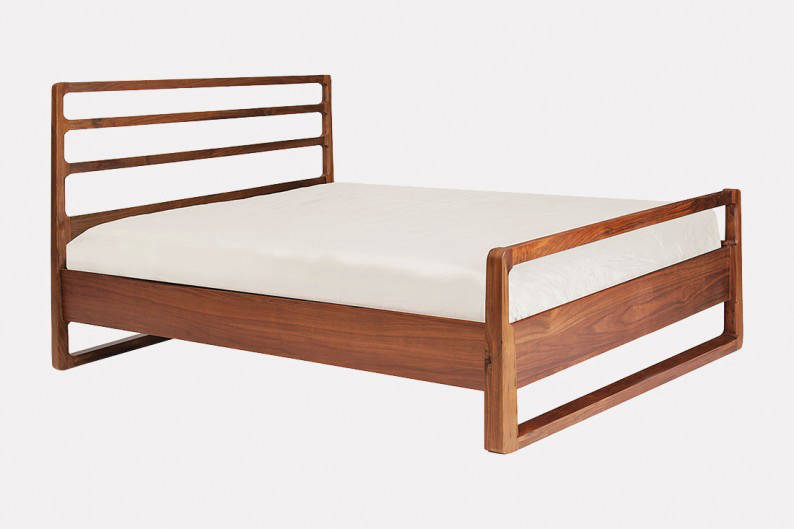 Weiland bed, $2,299, from Commune
Modern yet timeless, the Weiland bed fits a local king-sized mattress perfectly. We love the marriage of solid American walnut and walnut veneer, resulting in a gorgeous all-wood aesthetic that greets you at bedtime.
Weiland nightstands (a pair), $599 each, from Commune
Complete your bedroom look with the Weiland nightstands. We've giving away a pair so you can match them perfectly with the Weiland bed. Each walnut nightstand measures at 55cm (length) by 50cm (width) by  55cm (height).
Slice extendable dining table, $2,255, from Ethnicraft Online
The Slice Extendable Dining Table features a unique "slice" cutting around the perimeter of the tabletop, appearing as if the tabletop itself is floating. From its petite 140cm length (it seats four), the table extends to a generous 220cm, comfortable enough to accommodate eight to 10 persons.
Designed by Alain van Havre, the M Rack is inspired by Dutch painter Piet Mondriaan. The vertical and horizontal lines interlock to form a unique grid combination, and can be installed either vertically or horizontally. Use it as a book shelf, display shelf, or even a room divider!
MUM5 HomeProfessional kitchen machine, $1,199, from Bosch 
This powerful kitchen machine is a real all-rounder that's easy to use. It features great multi-functionality, thanks to its range of accessories. Whisk, stir, knead, shred and grate, all with one exceptional machine.
Croma Select E Multi handshower, $139.70, from Hansgrohe
The next time you take a shower, just click on the Select button to cycle through three different types of water flow. Pick the SoftRain for a gentle shower, IntenseRain for something more invigorating, or the Massage spray for a more a relaxing experience.
Raindance Select S120 handshower (a pair), $203.4 each, from Hansgrohe
The Design Package contains two of these technologically advanced handshower. They're equipped with innovative technology that helps you save water without compromising on the experience. The Raindance Select mixes water with air, providing maximum shower pleasure without adding to your water bills.
AXOR Starck Classic basin mixer, $980.20, from Hansgrohe
This award-winning basin mixer is a beauty to behold. It's minimalist in form, with just basic shapes and sleek lines that ensure your bathroom will never go out of fashion.
Kartell Battery Lamp, $310, from Lifestorey
This iconic table lamp has a battery life of up to 8 hours, and continues to charge as it's plugged in. The best part is the crystal-like lampshade that throws patterns of light and shade on the walls and floor around you.
Artemide Tizio table lamp, $793, from Million Lighting
Who doesn't love a great-looking task lamp like this one? With adjustable, counterbalanced arms and head, the Tizio lamp will be a great companion on your study desk.
Nova 42″ ceiling fan, $599 (including installation), from Himitsu
To top it all off, enjoy the cool winds emanating from the Nova 42″ ceiling fan, which will be installed in your home. We love the sleek design of this three-blade fan!
Want to be in the running for this $30,000 Design Package? Just count the number of L's on the front cover of our magazine. Then click here to participate.
---
---