Text by Janice Seow
In the age of mass production, the allure of handcrafted furniture is undeniable. These bespoke designs are one-of-a-kind, where each product showcases the skills of a master craftsman that's been honed through many years of practice.
For 45 years, Ng Chin Hock has been producing high-quality custom furniture that he has made with his own hands. He began his apprenticeship in carpentry at the age of 14 in Malaysia and recalls how his childhood greatly influenced his love for this age-old art form.
"As our family had financial difficulties, it was impossible for us to have toys like everyone else. So I made my own out of trash, wood and almost anything I could get my hands on," recalls Chin Hock. "This childhood experiences had a huge influence on my interest in carpentry, which required patience to craft and involved problem solving skills," he adds.
Over the years, Chin Hock was fortunate to come under the tutelage of various mentors who were very open in guiding and teaching him techniques that they themselves had learnt.
Chin Hock eventually came to Singapore and started his own company, Hock Hoon, in 1992. The company has by and large been made up of a small but dedicated team of master craftsmen. Chin Hock shares that maintaining consistent and fine workmanship for every project is one of the key benefits to running a boutique-style operation with a focus on bespoke designs. "There's the ability to control the quality of our work and the amount of attention we put in the details. After all, quality is what earns the client's trust."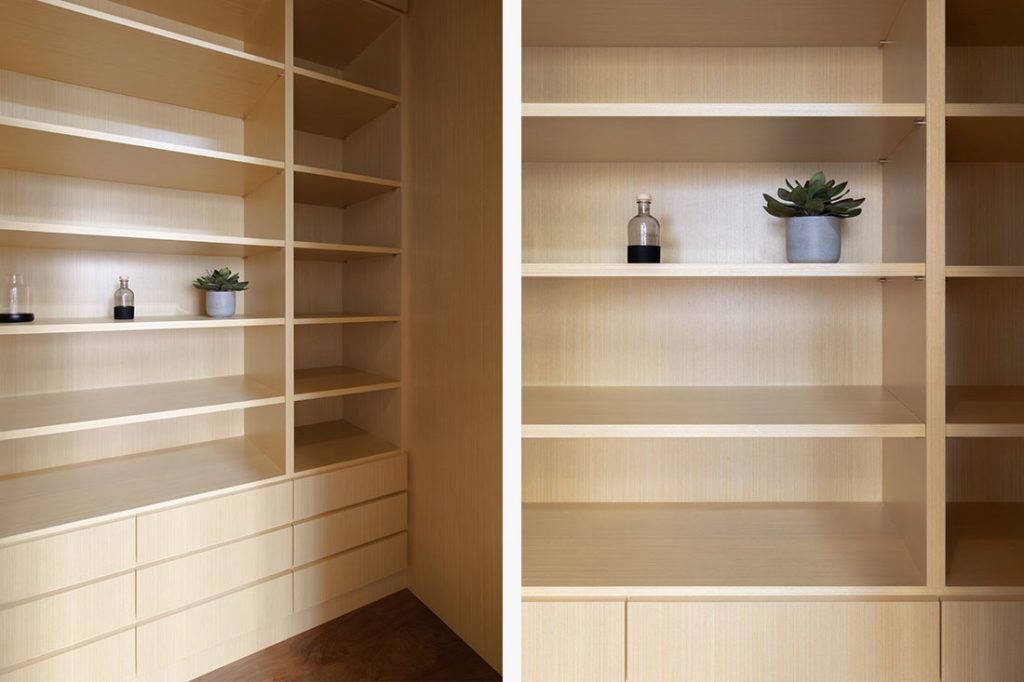 Hock Hoon's dedication to the craft of carpentry is reflected in its adherence to only using good quality materials, and by only ordering materials in small batches. "I do not order in bulk even though it's cheaper to do so. I will get what I need for each project only, because storing surplus material for a long period of time will cause wood to warp," explains Chin Hock. "I will also always personally be there when the supplier loads the materials onto my lorry to check the quality of each piece of plywood."
Chin Hock is clearly a man dedicated to his craft and his clients. "There's one customer that I've known for 30 years. I've worked on her salon, her house and her children's houses," he shares. With Hock Hoon's only marketing to date being word of mouth from one client to the next, it speaks loads of the company that it has managed to stay the course, while keeping up with the shifting demands of today's modern day customers.
Hock Hoon has now expanded its offering to include an interior design service, set on the same foundations of uncompromising quality, personalised service and putting clients first. This is helmed by Chin Hock's son Ng Ci En, who practiced interior design at a local firm before joining the company.
From young, Ci En served as his father's apprentice in his carpentry workshop, following him to site visits and client meetings. His appreciation for carpentry grew, and so too, his passion for interior design. Says Ci En: "I love the process of making, but I believe that when we are too absorbed in it, we tend to focus too much on the technical and functional aspects, ignoring the aesthetics and the human experience in relation to the space. Being an interior designer for me is being able to strike a balance between craft and design."
With this new father and son collaboration, Hock Hoon has evolved into a boutique-style carpentry and interior design integrated service, with the same dedication to bespoke designs. Carpentry fabrication and interior design is done under one roof, where each project is treated as a deeply personal one, and communication is seamless from craftsman to designer.
Hock Hoon
www.hockhoon.com
---
---