Text by Alex Wright
Embodying the essence of mid-century Australian design, The Bromley by Dalecki Design is a three-bedroom, two-bathroom residence in Perth. Inspired by creating spaces that respect and enhance their environmental contexts, the design studio's approach centred on executing even the smallest details well.
Demonstrating the principle of 'less is more', the design response takes the client brief and delivers a spatially efficient and aesthetically pleasing family home. The exterior embraces various textures, including render, shiplap cladding, and brickwork, all unified under a white coat. This elemental form is complemented by timber battens and panelling, adding a naturalistic touch to the modern structure.
Upon entry, a distinctive brick wall extends from the exterior into the interior. This architectural feature creates a seamless transition between the indoor and outdoor spaces, and most importantly, it contributes to the expansive spatial perception.
The central section of the home amalgamates the kitchen, dining, and living spaces, creating an interactive hub for the family. A major aspect of this design is the raised ceiling in the living area, which draws in natural light from the north and cool breezes from the south. The design further emphasises spatial definition without compromising the open-plan layout.
Over the kitchen area, a plant-adorned bulkhead echoes the form of the island bench below. This feature functions as a subtle visual connection between the shared spaces, making the transition between different zones smooth and cohesive.
Privacy within the home is maintained by creating separate wings for the main and children's bedrooms. This layout ensures seclusion without disconnecting these spaces from the heart of the house.
The design team has also incorporated openings that frame views of the garden, effectively bringing in natural light and ventilation while reinforcing the connection with the surrounding landscape. Within the interior, a stark palette is offset with timber cabinetry. At the same time, the restrained combination of minimalistic fittings, warm floor tiling, and a balance of rectilinear and organic forms reflects the subtlety of mid-century design.
Dalecki Design
www.daleckidesign.com.au

Photography by Dion Robeson
We think you may also like House of Bean is a house of joy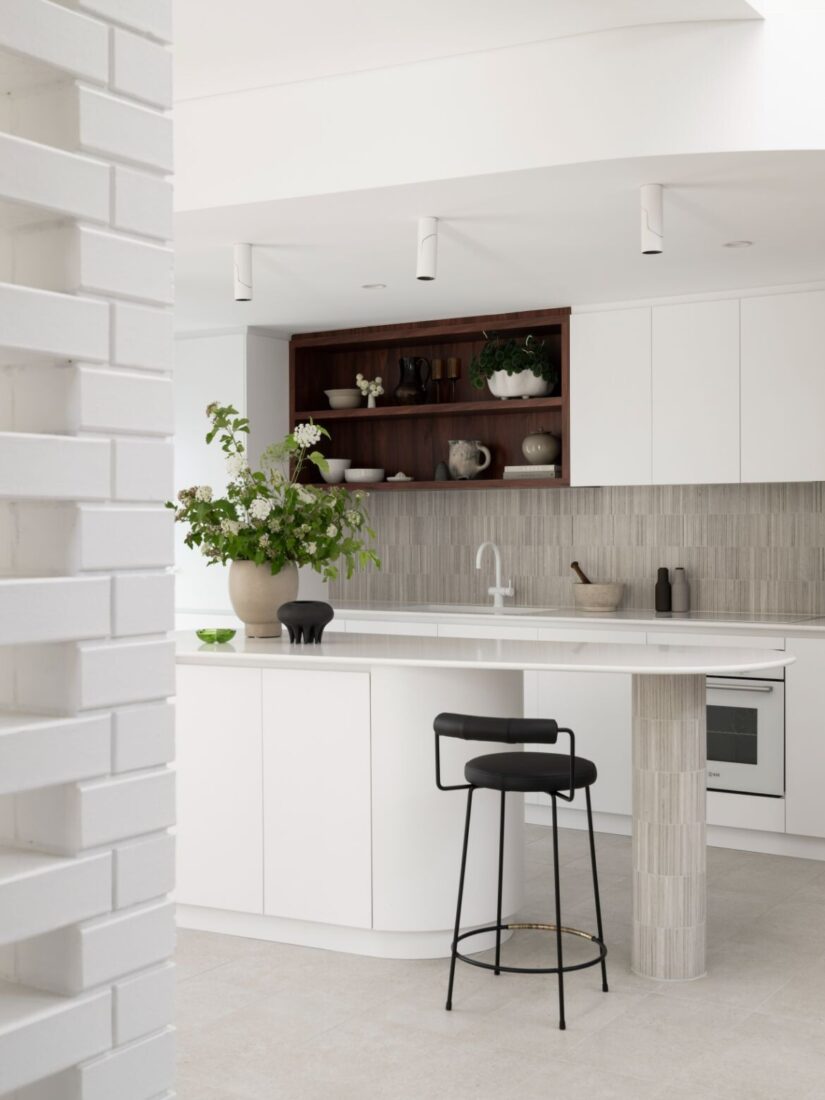 ---
---