Singapore Night Festival 2017 kicked off to a dazzling start over the past weekend with an impressive array of light installations. This coming weekend will see the complete line up of performances and programmes happening at various locations in the Bras Basah.Bugis precinct.
This year's festival marks the 10th anniversary of Singapore Night Festival and will no doubt be the largest and most spectacular yet! Here are 7 must-see highlights from this year's festival.
#1 Convolutions by EZ3kiel (France)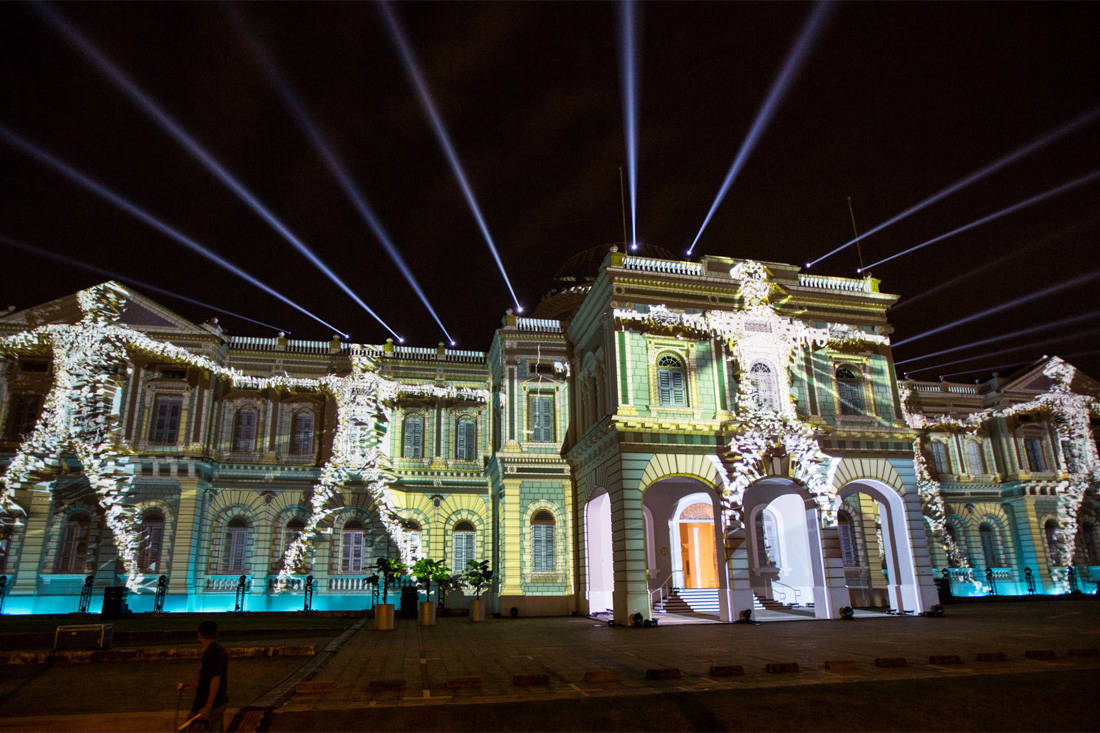 Where? National Museum of Singapore façade
When? 18 – 26 August 2017 | 7.30pm – 12am
This large-scale light show at Singapore Night Festival has become an all-time crowd favourite. Returning this year, Convolutions combines architecture, projection, lights, laser and music in a poetic and technological ballet to transform the facade of National Museum of Singapore into a contemporary show.
#2 Nostos: Records of the Self by Aesop (Singapore)
Where? National Museum of Singapore, Gallery 10
When? 18 – 26 August 2017 | 10am – 12am
To mark Singapore Night Festival's tenth anniversary, Aesop offers a scent experience for the occasion. Light is used to heat the essential oils stored in ten handcrafted steel wells, so that the smell permeates the space.
#3 Tessellations of Time by LiteWerkz x 3M (Singapore)
Where? National Museum of Singapore, Main Ground
When? 18 – 26 August 2017 | 7.30pm – 12am
Tessellations of Time is inspired by the precious bridges between people and time, in celebration of the 10 successful years of the Singapore Night Festival. Fluctuations of coded lights and digitally fabricated pods to create private spaces for people enter and interact with their own interpretations of the past, present and future.
#4 Secrecy by The Rat Pack (Singapore)
Where? Armenian Church
When? 18 – 26 August 2017 | 7.30pm – 12am
Secrecy is a light installation on hallowed grounds, a nod to the patron saint of the Armenian Church: St Gregory the Illuminator. The garden is bathed in a spectrum of calm neon tones with an ambient soundscape in the background.
#5 Globe by Close-Act Theatre (The Netherlands)
Where? Cathay Green (field opposite The Cathay)
When? 24, 25, 26 August 2017 | 8pm – 8.30pm, 10.30pm – 11pm
Globe is staged as a child's perspective of the real world, where the central character creates a domain that transcends religion, esotericism and cultural traditions. Using circus techniques, pyrotechnics, and video projection to represent liberty and the joy of flying, Globe is an ethereal spectacle full of symbolism.
#6 Les Hommes Debout (The Standing Men) by AADN (France)
Where? Singapore Art Museum
When? 18 – 26 August 2017 | 7.30pm – 12am
Behind the interactive art installation of
16 human-sized figurines – The Standing Men – call out to those strolling by with light flashes and colour changes. This interactive installation also features the voices of inhabitants in Bras Basah.Bugis, recorded in August 2017.
#7 Phosphene by Praxis+ (Singapore)
Where? National Design Centre, Design Gallery I
When? 18 – 26 August 2017 | 7.30pm – 12am
Phosphene is designed as a winding cavern of twinkling lights and unexpected turns for the visitor. It's a delightful journey of inspiration and surprises, commemorative of the beautiful moments in the Singapore Night Festival's decade-long journey.
Visit www.nightfestival.sg for the complete programme.
Save
Save
Save
---
---