Home Type: 2-bedroom condominium
---
This two-bedroom condominium apartment measures at only 900 square feet, but it is home to family of six. As you can imagine, finding the space to fit everyone in comfortably weighed heavily on the homeowners' minds. Amazingly, the design team from AC Vision renovated this home to give everyone enough room, and still have space to spare.
Their secret? Making full use of the height of the rooms and any available wall space. Instead of cluttering the limited floor area with bulky built-ins and unnecessary furniture, the designers focused on maximising floor space with the use of overhead cabinets and collapsible tables.
The AC Vision designers were tasked to carve out a spacious and storage-friendly home. While this is a common request, the petite home didn't leave much room for the married couple and their four sons. As such, every design element minimised the use of square footage as to evoke an illusion of space and openness.
A modern Scandinavian style does wonders in visually expanding this space-challenged home. It works here with the application of whitewashed walls, glossy floors and light woody textures. The abundant flow of natural light – thanks in part to the minimal addition of bulky furniture – also works in favour of the Scandinavian style.
The balcony takes up 60% of the entire floor space, so it only made sense to move the dining area to the balcony. Al fresco dining is now the norm for the family. To introduce an additional tabletop space for casual meals and as a study desk for the kids, the designer integrated a collapsible table to the L-shaped kitchen counter.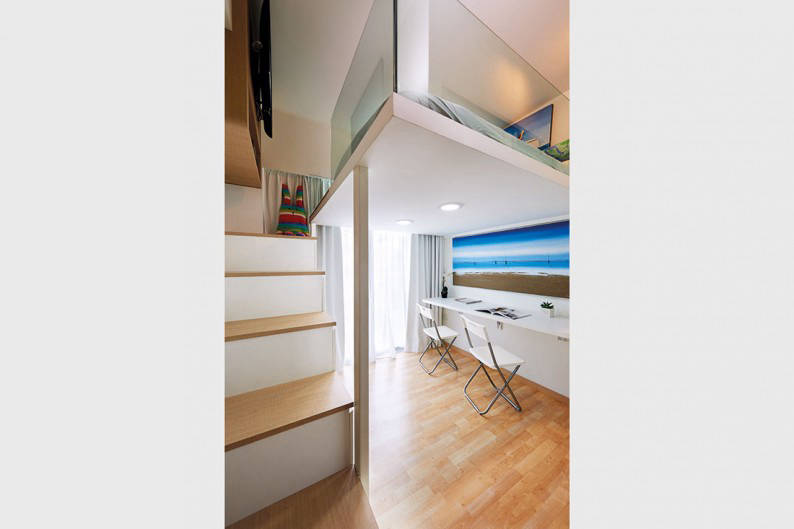 A crisis involving the sleeping arrangement has been averted in the kids' room. While one room to house three boys spell trouble, the AC Vision designers built a loft extension as a mezzanine for their beds. The bottom level is then dedicated for the wardrobe, a study table and a play area.
---
---