---
Text by Jasmine Goh
As the creative force behind interior design firm Wee Studio, Yeo See Wee and JJ Yip have spent years designing homes for others. Their designs are always highly appreciated but the husband and wife duo sometimes find that they're not able to truly implement all their creative ideas. So when it was time to renovate their own place, the newlyweds jumped at the opportunity to explore, experiment, and see their ideas come to life.
"I have always wanted to build an island counter combined with a TV console, but haven't had the opportunity to do so," says See Wee, referring to the beautiful black marble counter that now sits in his living room. It's one of the ideas that he had previously proposed to his client but was consequently dropped. Another idea he had was to have a mirrored ceiling which would help to create the illusion of expanded light and space. In their living room now, large mirror panels cover the entire stretch of ceiling above the sofa and coffee table, instantly injecting a shot of glamour into this space.
In the kitchen, the counter is set in a unique T-shape layout with a sink, cooktop and a round island hood. "My parents live in the same block. JJ and I are there most of the time, so we don't do much heavy cooking in our new place," says See Wee, explaining their decision to have more space for entertaining instead of cooking and washing.
Nevertheless, don't be fooled by the seemingly simple appearance of the kitchen. Even though the kitchen counter looks like just normal cabinets, it actually houses a refrigerator, a washing machine, a slide-out rack for spices and sauces, and multiple drawers to keep cooking utensils. It's no doubt that See Wee and JJ have efficiently maximised the space for all bulky appliances to be concealed neatly within the counter.
As this 5-room HDB flat is home to only See Wee and JJ at the moment, the couple decided that they did not need to keep all three bedrooms. The original master bedroom and another bedroom were thus combined to create a new master bedroom that is the perfect sanctuary with ample space for relaxation.
Equipped with a mini fridge, a coffee machine and a small pantry counter, the master bedroom also comprises a dressing area and stand-alone jewellery display counter. At the other side of the bedroom, a study desk is built into the design so that whenever there is any urgent projects to complete, there is a proper place in the bedroom for them to work. The various amenities built into this room makes it truly a self-sufficient space for the husband and wife to hang out in, be it night or day.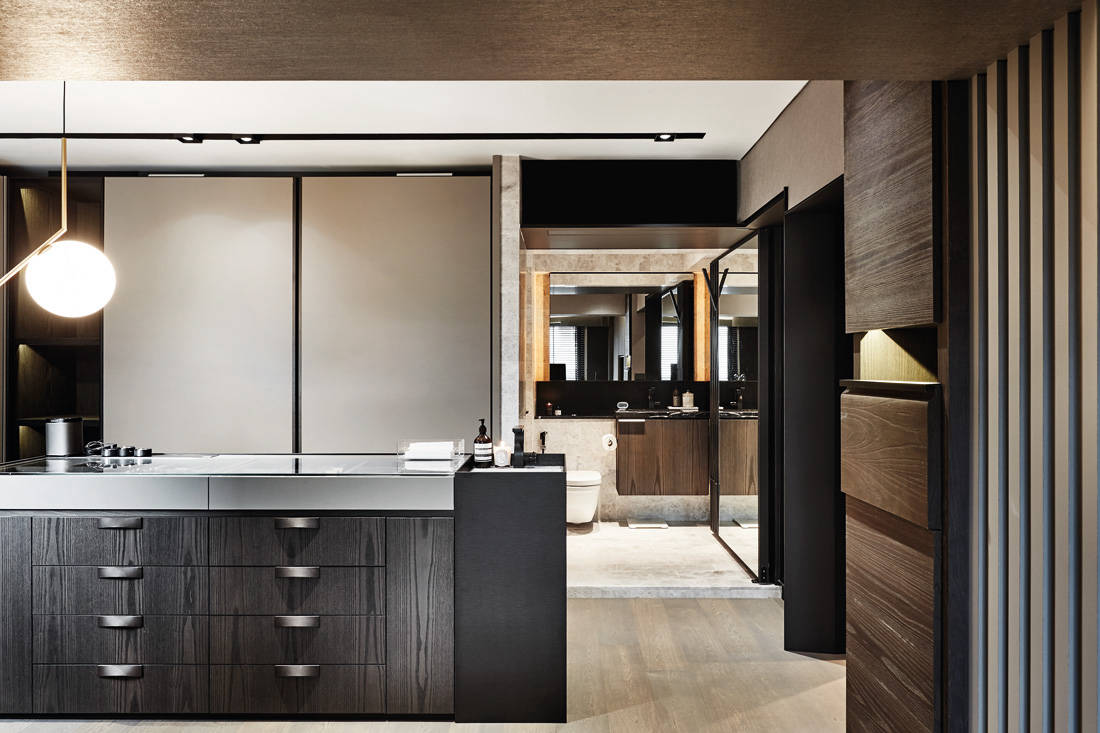 However, the real question remains. Couples do not always see eye to eye when it comes to interior design as each person has their own preferences. Since both husband and wife are creative individuals brimming with ideas, how did they reach an agreement on the design and layout of the flat? "He's the designer, I'm the client," answers JJ with a laugh. Grinning knowingly, See Wee nods in agreement and adds, "Happy wife, happy life!"
This home was first featured in Lookbox Living Issue #50.
Save
Save
---
---