Home Type: 5-room HDB flat
---
Text by Rossara Jamil
Travel is not only good for the soul, but it also inspires the mind with fresh ideas and inspiration. While most people bring back memories of their favourite places through souvenirs and unique finds, this couple wanted to bring the feel of London into their home. "They really loved the storefronts when they visited London. So, they wished for us to design a 'storefronts' area where they can showcase and decorate the glass display for different occasions," says designer Megan Zhang of M Atelier.
The couple share the HDB flat with their pets, a dog and a chinchilla. They also enjoy hosting family and friends in large groups of ten to 20 guests. So, the five-room flat must feel as spacious as possible. "Due to the layout, the living-and-dining space is in an odd trapezium plane. Thus, proper space planning is important to fully utilise the angled space," Megan adds.
To make the space ideal for hosting, the designer created several areas where guests could gather. The open-concept kitchen flows out to a breakfast area with an island counter perfect for baking. Behind the kitchen island is the storeroom, neatly hidden with a concealed door. The customised storage wall doubles as a feature that extends towards the bedrooms. There's even a dining set placed close by to the kitchen island.
Aside from the living area, guests can also relax in the London 'shop', which functions as an entertainment room. The black facade of this space, as well as the sign, gives it an elegant, upscale feel. Inside, a marble-patterned feature wall and a daybed dress up the space.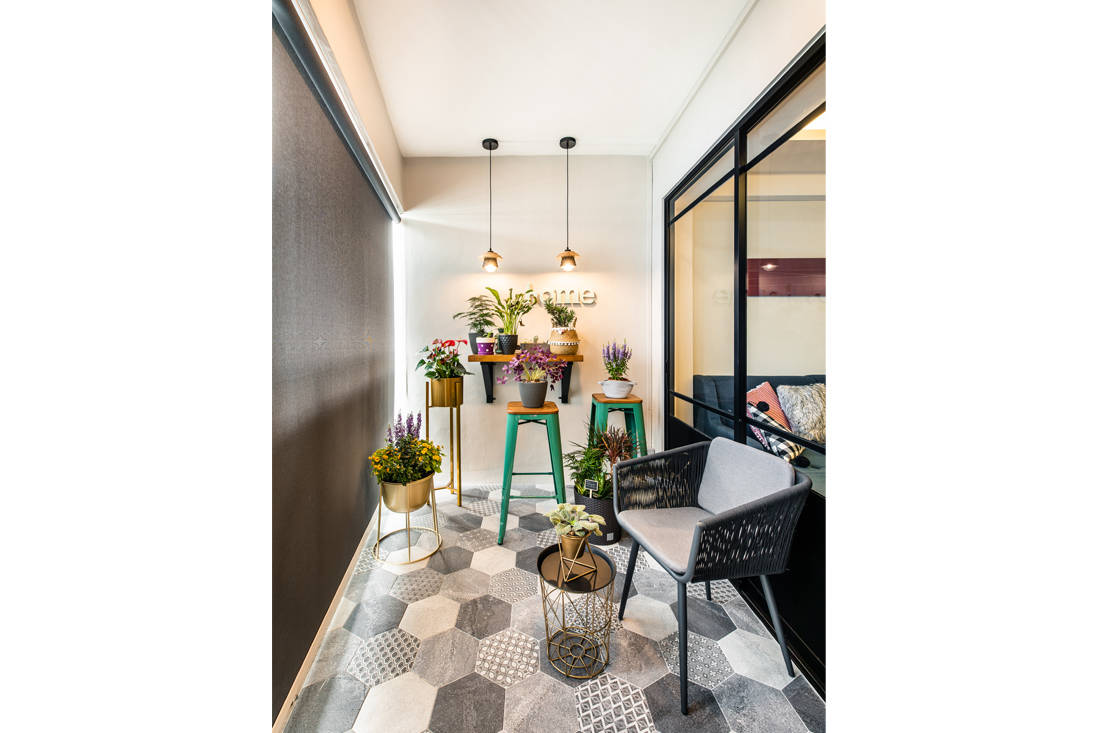 Black frames for the sliding door at the balcony echo the black exterior of the entertainment room. For a spot of fun, Megan introduced patterned floor tiles in the balcony.
The bedrooms too are hidden behind concealed doors that have been built flush with the woodgrain-patterned wall. A portion of the wall was removed to accommodate a large wardrobe in the master bedroom. This move allowed the wardrobe to be built flush against the wall. Megan explains, "The back of the wardrobe becomes the television feature wall in the entertainment room."
Lastly, the bathrooms feature monochromatic patterned tiles. One bathroom sports marble patterns while the other has stone patterns on the walls. The vanity cabinets inject a pop of colour to each and create a focal point. The clever use of colours, patterns and textures throughout this storefront inspired flat culminates in a sophisticated yet whimsical aesthetic for a fun-loving couple.
M Atelier
www.m-atelier.sg
www.facebook.com/m.atelier.sg
We think you may also like This beautiful showroom offers some serious home inspo
---
---