Home Type: 3-bedroom condominium
---
Text by Luo Jingmei
Photography by Fabian Ong
By virtue of their function as secondary homes, more liberty is often given to holiday homes for unbridled creative expression. However, the owner of this condominium apartment in Kim Seng Road chose to go down a subtler route.
"The owners wanted a simple backdrop for their time spent here. As such, we made sure our layout was not too complicated or experimental. Instead, we experimented with details and materials," says designer Sujono Lim from Parenthesis.
Each element in the holiday home is thoughtfully considered and artfully detailed to create a haven of calm. This is apparent upon entry, where one walks into a genteel atmosphere defined by soft grey, large-format homogeneous tiles, clean white walls and oak veneer cabinetry all round. Proportions are refined and joinery edge profiles streamlined.
Sujono considers the occupants' use of space as a temporary abode. The floor tiles are easy to maintain while forming a tasteful foil for elegant timber furniture from Japanese brand Conde House. Since not much cooking is done, the designer opened up the kitchen into the dining area, carving out a smaller wet kitchen adjoined to the utility area.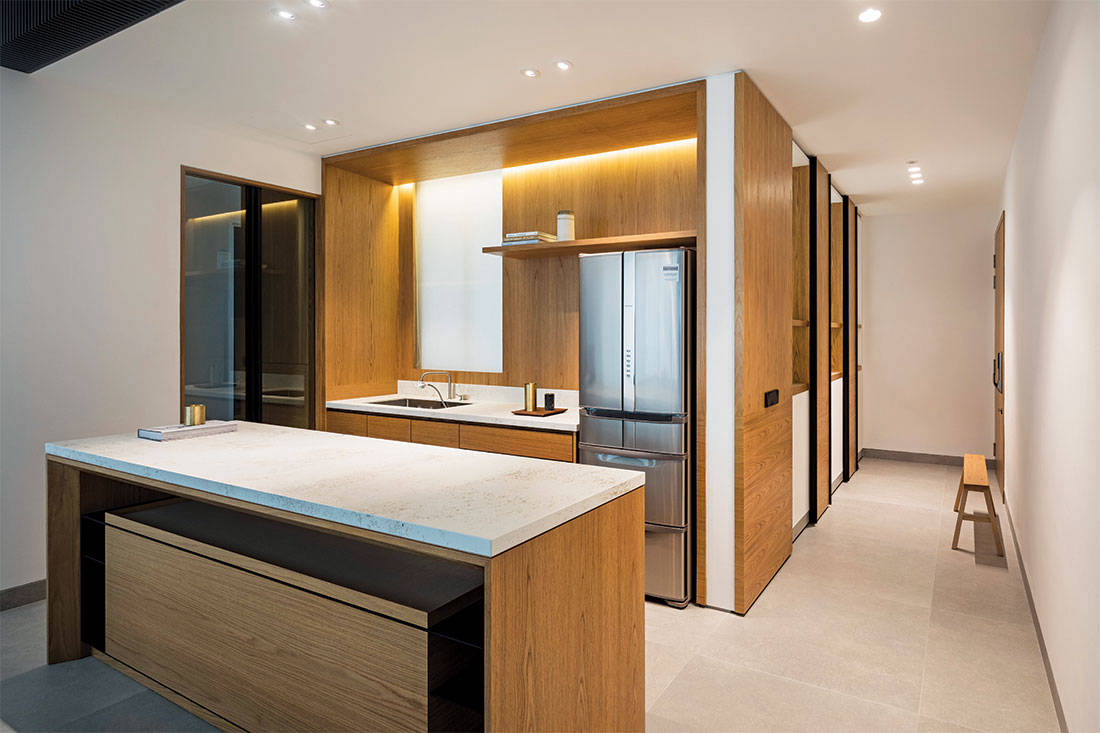 The kitchen island topped in Dekton ultra-compact surface resembles marble but is more than able to withstand hard knocks and frequent spills. "The new island counter promotes circulation and interaction around it. It is the centre of the house where many things are accessible from," says Sujono.
Throughout, Sujono enhances the house's functionality by adding storage to under-used or dead spaces. For example, shoe racks have been fitted above the foyer window ledge. Here too, full-height timber doors conceal clutter while maintaining a streamlined appearance consistent with the rest of the house.
In the bedrooms, timber portals trace the windows, giving the spaces character. Each is endowed a unique use as a study table, platform bed and bench tailored for each room's user.
The aesthetic is distinctively Japanese. It is inspired by the owner's fondness of the culture, particularly of well-crafted Japanese furniture. "The Japanese craftsmen's attention to detail and their dedication to work to the best of their abilities make their work endearing. These products require little effort to maintain and the designs can be considered classic for years to come," says the owner.
One of the ways Sujono translates this ethos into the house is through the design of the joinery, which sees refined proportions and bespoke profiles. He painstakingly explored different techniques with his contractor to ensure straightness, accuracy and durability of the built work.
Quietly elegant and with well thought-out details, this holiday home perfectly aligns with the idea of modern luxury.
This story first appeared on Lookbox Living Issue 61, Nov 2019 – Jan 2020
Parenthesis
www.parenthesis.studio
We think you may also like Japandi design done right in this resale flat
---
---